Allen, TX Dental Tooth colored crowns: Cuddly Smiles Pediatric Dentistry
Procedure Details
The pictures below depict the before & after images of a 4 year old Patient who presented with large cavities in between the front teeth. Teeth were restored by Dr. Yvonne Felli using dental Zirconium crowns to prevent progression of decay and future tooth loss. Treatment was performed at Cuddly Smiles Pediatric Dentistry & Orthodontics, Allen TX in 2023
More
Tooth colored crowns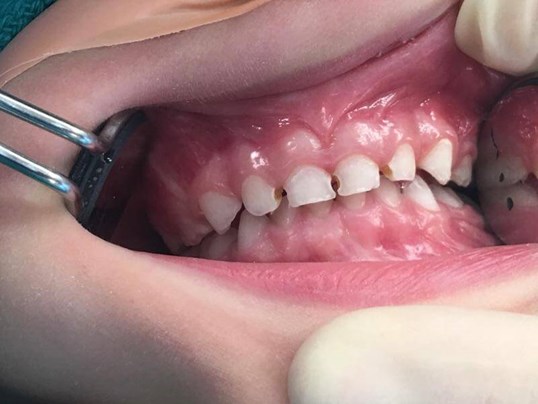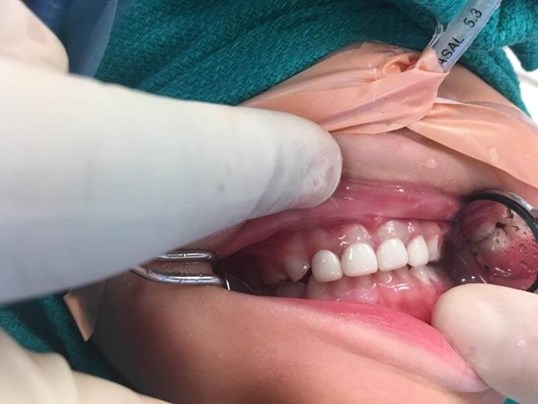 Tooth colored crowns . More
Dental crowns are recommended in situations where decay has caused extensive damage to the tooth to an extent where a filling cannot be predictably and successfully done. Crowns are also used to restore broken, discolored and/or malformed teeth.
Tooth colored crowns are made from Zirconium or Porcelain which are biocompatible and possess the strength to withstand forces of chewing.The crowns are glazed, giving them a shiny and natural appearance.
A dental crown will help restore a natural looking smile, allows for adequate chewing function, and prevents space loss and mal-alignnment of teeth.
Early extraction/loss of the baby teeth before it falls out naturally will lead to space loss and mal-alignment of teeth. The Baby teeth serve as spaceholders till the adult teeth come in.
Dental crowns for kids are used to keep the baby teeth intact until they are ready to fall out naturally, and allow for the adult teeth to come in.
The type of crown is selected based on your child's dental condition and sometimes parental preference.
At Cuddly Smiles Pediatric Dentistry & Orthodontics, Crowns are completed either with only Local anesthesia or Local anesthesia combined with 'laughing' gas or with other forms of sedation based on your child's behavior assessment.
After the procedure, it is highly recommended to avoid chewing in the area of anesthesia and crown for at least 24hrs, and to stay on soft diets for the next few days to a week.
To learn more about tooth colored crowns please call us at 4693420080 or visit us at cuddlysmiles.com.